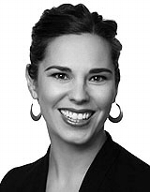 Laura's family roots in east bay real estate reach back 50 years. As a mortgage broker, her father achieved enduring success through an old-fashioned mix of personal relationships, hard work, and integrity. When she launched her own practice in 2003, Laura thought it wise to use her father's approach. This approach has helped her build a community of professional collaborators, from chimney-sweeps to interior designers, and brought her a range of clients that includes first-timers, experienced homeowners, and pure investors drawn to the rich opportunities of this market. She's handled a wide range of properties, from humble "fixers" to distinguished architect-designed homes.
Laura brings a keen eye and strong instincts to the business of real estate, while, to her working relationships, she brings honesty and warmth. 
Laura was born in Berkeley and raised in the Oakland Hills. She was educated locally at both public and private schools, then on to receive a BFA at the University of New Mexico. As an east bay native, she has honed a subtle and intimate knowledge of its neighborhoods and architecture. She currently resides in Berkeley on Panoramic Hill, where she enjoys urban farming, hiking, and exploring the wonders of the East Bay with her family. 
Testimonials:
".......PERCEPTIVENESS, INSIGHT AND STEADINESS..."
"Laura's guidance during our search for the house that we wanted and her guidance in dealing with the offer process was a marvel of professionalism, perceptiveness, astuteness, insight, steadiness and good cheer. She is a master!"
Marla - (buyer/seller)
".......SHONE DURING THE NEGOTIATING PROCESS..."
"Laura helped us buy our first home. She was incredibly patient, explaining every step of the process. We never felt pressured to make a decision. Laura truly shone during the negotiating process saving us money and making sure we got the house we really wanted. As a same sex couple, Laura was able to address our specific needs during the closing process. Laura was really fun and energetic to work with, always available and very thorough. We would give definitely have Laura help us buy another house in the future."
-Kirstyn & Lisa (buyer)
"……WORK ETHIC, INTELLIGENCE AND ENTHUSIASM..."
"I met Laura several years ago when she sold a house for a friend of mine. Her work ethic, intelligence, and enthusiasm made such an impression on me that when it came time to sell our house and purchase a new one I knew exactly who to go to. Laura takes care of every last detail and then some. She listens as well as offers her guidance in a way that is always positive and supportive. She takes the time to understand and connect with you and then works harder than anyone I know to make sure you are happy. We couldn't be happier and can't recommend Laura highly enough!"
Heather (seller/buyer)