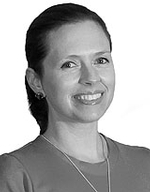 I am a wife, a mother, a Realtor, a Bay Area  native, and an occasional world wanderer. After living in New York City, Miami, and Washington DC over the course of 12 years, my husband and I returned home to raise our family - my parents still live in the Victorian I grew up in San Francisco - and we settled quickly into the vibrant and eclectic community that is the East Bay. 
I am passionate about my profession. I love that no two days are ever the same, that every transaction brings new discoveries but more than anything, I treasure the relationships that are fostered with all my clients. I work with only a handful of clients at any given time so that I can ensure each one benefits from my full attention from start to finish of a sale, and often beyond. I take great pride in the fact that the majority of my business is referral-based from loyal clients and colleagues from around the country.
Client Testimonials:
I bought a condo with Caitlin as my real estate agent.  This was my second time buying a condo--the first time I bought was in LA with a different agent.  My experience with Caitlin was seamless and stress-free; this is particularly so in comparison to my prior experience in Los Angeles with a different agent. Everything was so clear and efficient with Caitlin, it was a remarkably smooth process. She is incredibly responsive, attentive, and diligent; and, on top of that, she has impeccable taste.     - Catie B.
We met Caitlin at an open house. Based on the impressive and quick manner in which that home was sold as well as her wealth of knowledge about the changing neighborhood, we asked her to assist us in selling our property just down the block. From the first meeting, we were completely blown away by Caitlin's detailed, organized, and professional approach. Her suggestions to prepare our home for the market were ultimately crucial in helping it sell. She consistently kept us abreast of what was going on and was always available for questions or even to calm us down when we became nervous or anxious. In the middle of all of this, Caitlin was also helping us with the purchase of our new home.. She was the calm we needed, and was able to offer us invaluable knowledge about the market. We would, without a doubt, recommend Caitlin to those buying or selling a home, or doing both at the same time.     - Scott L.
Caitlin is a real estate rock star and I would definitely seek her assistance in the future when it's time to make another purchase. I highly recommend her services if you are looking for a real estate agent who puts your satisfaction above all else.  - Jeff T.